Autophix OBDMATE OM123 OBDII EOBD CAN Engine Code Reader
OM123 OBD2 EOBD CAN Hand-held Engine Code Reader (Orange Color)
OM123 OBD2 EOBD CAN Hand-held Engine Code Reader is portable ,easy operation,convenient to know your car status, which is best partner for your precious car engine
Language: English, French, German, Spanish, Dutch, Polish, Portuguese, Russian
OM123 Description:
1. Hand-held OBD2 tool-OM123 make it a easy way to saves time and money on repairs- find out what's wrong prior to repairing and verify a repair , OM123 offers peace of mind for anyone who has ever worried about car maintenance.
2. The easy-to-use device, which fits inside a purse or glove compartment, empowers drivers to monitor their vehicles health.
3. It's a fast and easy to use code reader for Do It Your self and Do It For Me.
OM123 Features and Function:
1. Built-in OBD-II DTC library ,
2. Plug-and-play interface and highly reliable,
3. Large LCD screen easy to read ,
4. No batteries,supply power through detachable OBDII cable.
5. Small size and conveniently fits in your palm.
6. Reads & clears trouble code: generic codes, pending codes and manufacturer's specific codes.
7. Reads live data stream
8. Displays I/M readiness Status
9. Detects OBD-II Freeze Frame Information
10. Retrieves Vehicle information (VIN, CID and CVN)
Autophix OBDMATE OM123 Specifications:
Display:

Back-lit, 128 × 64 pixel display with contrast adjustment

Operating Temperature:

0 to 60°C (32 to 140 F°)

Storage Temperature:

-20 to 70°C (-4 to 158 F°)

External Power:

8.0 to 18.0 V power provided via vehicle battery

Dimensions:

Length

Width

Height

125 mm (5.00″)

70 mm (2.80″)

22 mm (0.90″)

Weight

NW: 0.23kg (0.51lb), GW: 0.32kg (0.74lb)
Packing including:
1pc x Autophix OBDMATE OM123 OBD2 Engine Code Reader
Autophix OBDMATE OM123 OBDII EOBD CAN Engine Code Reader Multi-Languages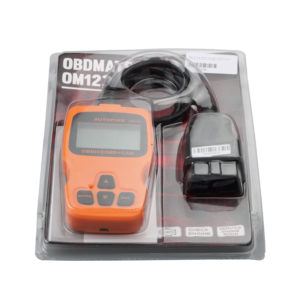 Autophix OBDMATE OM123 OBD2 EOBD CAN Hand-held Engine Code Reader is portable ,easy operation,convenient to know your car status, which is best partner for your car engine.
Product SKU: Autophix OBDMATE OM123 2021
Product Brand: Autophix OBDMATE OM123
Product Currency: GBP
Product Price: 39.99
Price Valid Until: 2024-03-24
Product In-Stock: InStock