Vpecker Easydiag Wireless OBDII Scanner Automotive Diagnostic Tool Multi language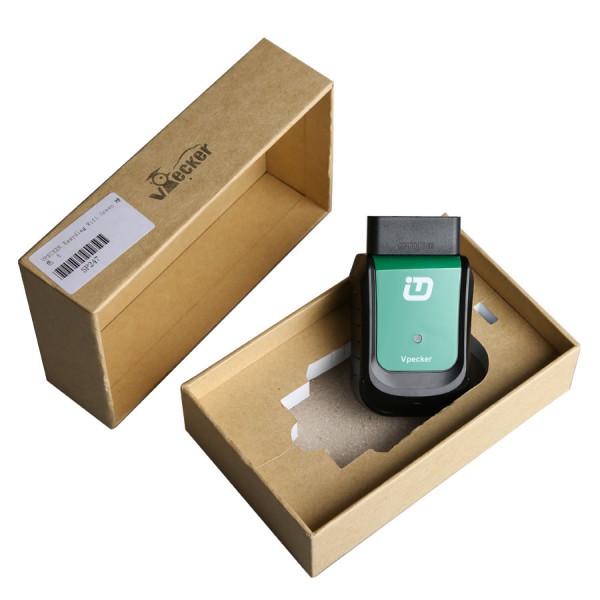 VPECKER Easydiag Wireless OBDII Diagnostic Tool support total 85 brand vehicle from European, Asian, American, contain lots of Chinese vehicle brand. Support Multi-language, can be used for customer from different country. One OBDII Adapter, software is completely free downloading, support online update.VPECKER aimed at provide best service for customer and we are keep improving!
Top 12 Reasons to Buy VPECKER Easydiag:
1. Languages available:Supporting 25 languages, including Italian, Chinese (Simplified), English, Chinese (Traditional), Japanese, German, Russian, French, Spanish, Portuguese, Polish,Turkish, Dutch, Hungarian, Korean, Czech, Arabic, Indonesian, Persian, Thai, Vietnamese, Finnish, Swedish, Romanian, Bosnian, etc.
2. Complete function capability including live data, ECU programming and so many others.
3. Unparalleled OBDII functionalities-support ALL 5 OBDII protocols and ALL 10 test modes.
4. Automatic Wi-Fi updates available in new software releases. Wi-Fi internet capability allows for wireless access throughout the workshop.
5. Can check out the year and model of the vehicles automatically and quickly.
6. Can work stably in high and low temperature environment, and work well.
7. The genuine Windows XP~10 operating systems allows for more stable performances, better compatibility and expandability.

8. Extremely easy-to-use with touch-screen operation and intuitive operation in the windows.
9. Software support online update.
10. Hardware architecture uses a new design with multiple protection, interference and stability. Built-in over voltage protection module is applied, in order to protect scanner and vehicle against accidental damage during checking.
11. Extensive vehicle coverage for more than 73 US domestic, Europe, Asia, Australia and Chinese vehicles makes.
12. Support Kia and Hyundai cars till the year 2017
Notice: If the Vpecker WiFi name miss or changed to "HF-LPT120", this tool can configure it back. please follow the README.TXT.
VPECKER Easydiag Specifications:
Operating System: Windows XP~windows 10
Processor: ARM 32-bit Cortex processor
Communications: 802.11 b/g Wireless LAN
Input Voltage: DC 8-18V
Operating Temperature: -10 to 70 C(14 to 158 F), Relative Humidity: <90%
Storage Temperature: -30 to 120C(-22 to 248F), Relative Humidity: <90%
Dimension: 150mm (5.91") * 94mm (3.70") * 40mm (1.57")
Unit Weight: NW:0.07kg (O.154lb) GW:0.166kg (O.366lb)
Protocols: UDS, ISO 9141-2, K/L lins, SAE-J1850 VPW, SAE-J1850 PWM, CAN ISO 11898
ISO 15765-4, High speed, Middle speed, Low speed and Single wire CAN.
VPECKER Easydiag Vehicle Coverage:
1. USA
For Chrysler, Ford, USA For GM, For Jeep, For Scion
2. European:
Abarth,  Alfa Romeo, Aston Martin, Audi, Bentley, Mercedes Benz,  BMW,  Bugatti,  Citroen, Dacia, Ferrari,Fiat Ford, Jaguar,Lamborghini, Land rover, Maserati, Mini Cooper, Opel, Peugeot,Porsche,Renault,Saab,Seat, Skoda, Vauxhall,  Volvo, VW
3. Asia:
For Acura, ASIA  GM, Daewoo,  Daihatsu, Honda, Hyundai,  Infiniti,  Isuzu,  Kia, Lexus,  Mazda, Mitsubishi,Nissan,  Perodua, Proton, Ssangyong,  Subaru, Suzuki, Toyota.
Notice: The version for proton car type has updated to v13.0
4. Australia:
Holden, Ford (Australia)
5. OBD-II:
Chrysler, Ford, GM,Toyota, Lexus, Honda, Hyundai, Kia,  Mazda, Mitsubishi,  Nissan, Subaru, Suzuki, Abarth, Aston Martin,  Bugatti, Ferrari,  Lamborghini, Maserti, Mercedes Benz,  BMW, VW, Audi, Seat,  Skoda, Porsche,  Jaguar,  Land Rover,  Volvo,  Saab,  Alfa Romeo.
VPECKER Easydiag System Coverage:
ME-Motor electronics, CDI – Common Rail Diesel Injection, ETC-Electronic transmission control, ESM – Electronic selector module, SBC – Sensotronic Brake Control,
ESP-Electronic stability program, BAS-Brake assist, Suspension, TPC – Tire pressure monitor, Airbag, CGW- Central gateway, EIS- Electronic ignition switch,
OCP- Over head control panel, UCP- Upper control panel, XALWA-Xenon headlamp, HRA-Headlamp range control, ATA-Anti-theft alarm system, IC- Instrument cluster,
ASSYST-Active Service System,  SCM-Steering column module,  EPS-Electrical power steering, PTS- Parktronic system,  EPB-Electric parking brake,  COMAND/AUDIO, CD/DVD, TV tuner, CTEL-Cellular telephone, DCM-Door control module, ESA driver-Electric seat adjustment driver, ESA passenger-Electric seat adjustment passenger, AAC-Air conditioning, WSS-Weight sensor system, SVMCM-Special vehicle multi function control module, etc.
VPECKER Easydiag Function Coverage:
Quick Test, Read ECU Info., Read DTCs, Erase DTCs, Clear learning value, Data Stream, Actuations, Read freeze frame data, Read/Write VIN, Basic Reset, Control unit adaptations, Throttle adaptations, Air bleeding, Level calibration, Theft alarm Reset, Key programming, Oil change, Idle speed learning, Idle speed Adjustment,  Ignition timing adjustment,  Camshaft timing control learning, Maintenance functions, ECU Initial startup, ECU initialization, etc.
Package including:
1pc x VPECKER EASYDIAG
VPECKER Easydiag WINDOWS 10 Wireless OBDII Diagnostic Tool
VPECKER Easydiag Wireless OBDII Diagnostic Tool support total 85 brand vehicle from European, Aisan, American, contain lots of Chinese vehicle brand.
Product SKU: VPECKER Easydiag 2021
Product Brand: VPECKER Easydiag
Product Currency: GBP
Product Price: 164.99
Price Valid Until: 2023-03-24
Product In-Stock: InStock